Where to store cryptocurrency
To sleep well at night, you need to be sure that your digital assets are in a safe place and protected from cyberattacks. Accumulating cryptocurrencies is one thing, but storing them securely will require quite different skills. Next, let's take a look at what a cryptocurrency wallet is and what types there are.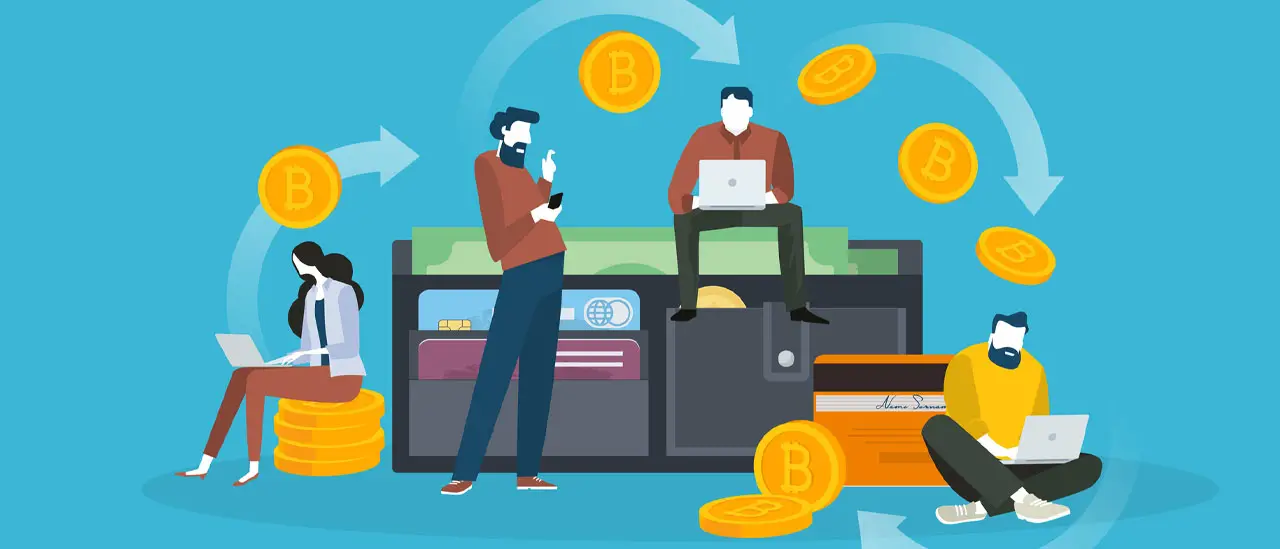 A cryptocurrency wallet is a special program that contains cryptographic keys: public and private.
The public key is used to receive funds and is also called an address. This is specified, for example, when buying cryptocurrency in an online exchange. This is the address to which the seller will send the buyer money.
A private key or blockchain security key is created to confirm transactions. For example, if you decide to send someone cryptocurrency, the system uses the private key to sign the transaction. Once the procedure is approved, the money will go to the recipient. This is an automatic process.
In operation, a cryptocurrency wallet looks like a personal account of a bank customer. In it, you can see the balance, transfer, or receive money.
The hackers' efforts are aimed at getting hold of the keys. In this case, they can dispose of someone else's money, and the user's access to the funds will be lost forever.
Any cryptocurrencies that are connected to the Internet are called hot wallets. They are easier to hack because the system can be accessed remotely. Cold wallets are those that are not connected to the network. Usually, they are physical devices with a program installed.
Hot Wallets
The wallet program can be embedded in different systems:
Website;
Internet browser;
Windows;
Android.
Depending on the format in which the developer offers the solution to users, hot cryptocurrency wallets are divided into several groups. Each type differs primarily in the level of security.
Desktop Wallet
A desktop wallet is a downloadable program that can be installed on a computer or laptop. Public and private keys are stored in the «wallet.dat» file on the personal computer, which means that the user has full control over accessing the funds.
Loss of the «wallet.dat» file or the wallet password will result in a loss of funds. To avoid this, a copy of the key file can be saved on an external device, such as a flash drive.
The desktop wallet can be encrypted – you will have to enter your password every time you launch the program, but the security level will be higher.
Web Wallet
Web-Wallet is usually used for quick transactions. This is convenient, for example, when you trade cryptocurrency on exchange – you often open and close transactions. Cryptocurrency exchanges Coinbase, Binance, Kraken, Bitfinex, Poloniex, and other trading platforms use web wallets to provide financial services to customers. In such cases, the platform controls the private key.
On the one hand, this is a plus. If a customer loses passwords and keys, they can quickly regain access to funds. However, the risk of losing money through hacking or by the decision of the authorities increases. According to the law in Russia, cryptocurrencies are considered assets. They can be seized or confiscated by court order.
The main disadvantage of storing funds in a web wallet on a cryptocurrency exchange is the risk of hacking. Trading platforms accumulate significant customer funds and are cherished targets for hackers.
Crypto exchanges try to strengthen security with additional measures. For example, Binance keeps only a small percentage of customer funds in hot wallets and most of it in cold wallets. Many exchanges use multifactor authentication, where each time a user logs in, they confirm their identity. This process is similar to signing documents with an electronic digital signature.
Some web wallets that are not affiliated with cryptocurrency exchanges and are independent projects also have access to their users' private keys. Examples here are Crypto.com, Xapo, or Freewallet projects.
Mobile Wallet
Mobile Wallet is a smartphone application, convenient for regular transactions, for example, when you pay for cryptocurrency purchases. The functionality of a mobile wallet is similar to its desktop counterpart.
Let's compare the types of hot wallets in the table.
| | | | |
| --- | --- | --- | --- |
| Types of hot wallet | Format | Risk of hacking | When to use |
| Desktop Wallet | Downloadable program | Low if you store the key file on an external device | Storing large sums |
| Mobile Wallet | Downloadable application | Medium | Regular transactions |
| Web Wallet | Personal account on the platform website, web browser plugin | High | Trading |
Now let's break down the most popular hot wallets.
| | | | |
| --- | --- | --- | --- |
| Title | Year of creation | Support for cryptocurrencies | Usage Variant |
| Blockchain | 2011 | Bitcoin, Bitcoin Cash, Stellar, Ethereum, USD PAX | Web and mobile versions |
| PAYEER | 2012 | Bitcoin, Ethereum, Bitcoin Cash, Litecoin, Dash, Tether, Ripple, and more | Mobile |
| Metamask | 2016 | Ethereum and ETH-based tokens | Browser |
| JAXX | 2014 | 82 cryptocurrencies | Desktop, browser, and mobile version |
| Trust Wallet | 2017 | 61 cryptocurrencies | Mobile |
A cold wallet is always a physical device with a program installed. It is not connected to the Internet, which means it is reliably protected from hacking. But a device the size of a flash drive can be lost. This is probably the main risk of storing cryptocurrency this way.
| | | | |
| --- | --- | --- | --- |
| Wallet | Size | Number of supported cryptocurrencies | Cost |
| Trezor Model One | 60*30*6 mm | More than 600 cryptocurrencies | from 59 euros |
| Ledger Nano S | 72*18.6*11.75 mm | over 100 cryptocurrencies | from 100 euro |
| Ledger Nano X | 72 *18.6*11.75 mm | several hundred cryptocurrencies | from 180 euro |
A hardware wallet can be password-protected. This increases security, but if stolen, the pin code can be hacked by an experienced hacker, so it is better to keep a cold wallet in a secure place.
Software failures in such systems are rare, but backups can help reduce risks. As a rule, a program installed by the developer of the system allows you to do this.
Today there is no universal way to store cryptocurrency. Users choose one or another option depending on their goals and convenience. For example, a trader will use a hot web wallet for quick transfers, while an investor who has invested $100k in crypto assets for the long term is likely to choose a hardware solution.
| | | | |
| --- | --- | --- | --- |
| Wallet | Cryptocurrency storage risk | Asset locking | Additional charges |
| Hot Wallet | Medium | Possible, for example, in case of exchange bankruptcy or regulator bans | Usage is free, and the system charges a fee for transactions |
| Cold Wallet | Low | In case of theft or hacking | Device purchase |
You can reduce the risks by using several wallets of different types. For example, when closing a trade on a crypto exchange, transfer funds from a web wallet to a desktop wallet for storage. Cold wallets provide the highest level of protection.